Fiduciary Calls - Definition


Fiduciary Call is an option trading strategy which buys call options as a replacement for a protective put or married put in the same proportion.





Fiduciary Calls - Relationship With Protective Put


A Married Put or a Protective Put option trading strategy is where you buy put options in order to protect your stock from losses beyond the strike price of the put options. To do this, you pay the price of the put options, like an insurance premium, monthly. In this case, the put options perform like an insurance.



Example : Assuming you own 100 MSFT shares at $30 per share. You bought 1 contract of MSFT Nov30Put for $0.80.
Total cost of position = ($30 x 100) + ($0.8 x 100) = $3080.

The protective put position in the example above costs $3,080 to put on. However, there is a cheaper way to get exactly the same potential payoff and loss profile and that is by using a Fiduciary Call.

A Fiduciary Call is simply the buying of enough At The Money call options to represent the total amount of shares that would be bought. In this case, a Fiduciary Call requires the buying of only 1 contract of MSFT Nov30Call for $80 (Assume Nov30Call = $0.80).

Through buying a Fiduciary Call, the rest of the fund that would have been otherwise committed to a protective put position can be reinvested in a risk free instrument, thus returning more overall profit than a protective put position. In essence, a protective put creates a synthetic call position.





Fiduciary Calls - Risk Graph Comparison

Comparing the option trading risk graph of the Fiduciary Call (call option) and a Protective Put, you would notice that they are exactly the same. Same loss if the stock stays stagnant, same profit profile and same limited loss.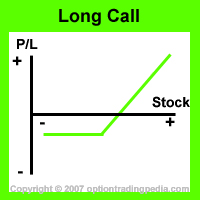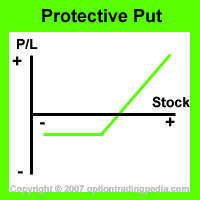 Fiduciary Calls - Data Comparison

The table below perfectly explains the benefits of a Fiduciary Call, using the above MSFT example.
| | | |
| --- | --- | --- |
| | Fiduciary Call | Protective Put |
| Cost | $80 | $3080 |
| Profit If MSFT $50 | $1920* | $1920** |
| Loss If MSFT $10 | $80` | $80`` |
| Fund Committed*** | 1.6% | 61.6% |
* : ((Stock Price - Strike Price) x number of contracts) - net option premium
** : ((Stock Price - Initial Stock Price) x number of shares) - net option premium
*** : Assuming a total fund size of $5000
` : Net option premium
`` : ((Strike Price Of Put - Stock Price) x number of shares) - net option premium

Clearly, using a Fiduciary Call returns the exact same profit, has the exact same loss but utilises only a small fraction of the price of a protective put position through the principle of Put Call Parity. This also means that a stock combined with a put option creates a synthetic call option. In order for a Fiduciary Call to return the exact same profit/loss profile, leverage must be controlled such that no additional MSFT shares or options are bought using the remaining fund. The remaining fund should be held in a fiduciary account which returns a risk free interest rate in order to safely return an additional profit to the overall fund. Hence the term "Fiduciary". This is also what makes the famous Stock Replacement Strategy possible.




Fiduciary Calls - Conclusion

You must be wondering by now, what's the difference between a "Fiduciary Call" and a plain vanilla "Long Call" option trading strategy? Well, there really isn't any difference since both option trading strategies involves just buying call options. The main difference is in the number of call options purchased and the purpose behind the purchase. Just like people eat at a restaurant over more reasons then just ridding one of hunger, the different purpose behind executing each strategy changes the nature of each option trading strategy. Long ago, when there was only call options and no put options being traded in the exchanges, investors "manufactures" put options for the protection of a portfolio through the use of Fiduciary Calls, governed by the principle of Put-Call Parity.






Please LIKE Us

:




Follow Our Updates: